A New Year is the best time to get started on planning how your business will prosper this 2020. To help you get off on the right foot, we've listed five (5) marketing strategies that will help boost your business growth.
1. Optimize your website
Your website is one of the best marketing tools when it is optimized for search engines and user conversions. If your site is not attracting visitors and converting clients, it's time to start optimizing your website. Here are a few tips.

Make sure that your website has a good and clean design, layout, navigation and overall structure that makes it easy for users to find the information they are looking for quickly and efficiently.

Optimize your website, so that search engines such as Google can easily find your business, and make your site rank on Google searches.

You can make your site more SEO friendly by filling in or updating the SEO title, meta descriptions, slug, and focus keywords of your website's pages and blog posts. Make sure to put new and relevant content on your site that is trending in your niche. SEO is a very wide landscape to tread on, so it's best to consult a digital marketing agency on how best to tackle SEO.
2. Good Customer Experience
Your customers are what keep your business running. Without customers, your business will not thrive. So, how can you keep and acquire more customers? Offer good customer service.
Even with the proliferation of AI and chatbots, there's still a clamor for more human interactions and positive customer experiences. In fact, 73% of consumers say that customer experience is a vital factor in their buying decisions.
Good customer service is one of the defining factors for a customer in deciding to choose you or your competitor(s). The way you treat your customers also makes them either a loyal customer, or just a one-time buyer.
In the study of PWC, consumers value these 5 elements the most when it comes to customer experience: Efficiency, Convenience, Friendly Service, Knowledgeable Service, and Easy Payment.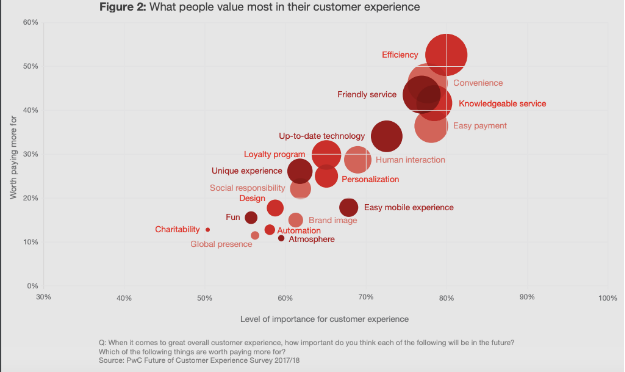 So, how do you ensure that you are providing great customer service to your customers? Aside from making sure that your customer's navigation and/or shopping experience in your website is fast and flawless, it is also important to have a good contact center team.
Your contact center support team is one of your customer's point of contact to your business. And they represent your company and brand to your customers and beyond. That's why it's crucial for your business to have a good team that are not just mere employees, but also advocates of what your business stands for.
Whether you have an existing contact center team or not, focus on building a team that will best represent your brand to your customers and beyond.
Make sure that your contact center team exudes a positive attitude and treats your customers well. They should also be capable and knowledgeable to handle customer's inquiries and concerns.
3. Newsletter
Email is still one of the best marketing outreach and conversion tools your business can use. If you're not sending out email newsletters to your clients and customers, you're missing out on a golden opportunity.

Your email newsletters are also a way for you to keep in touch with your customers. By regularly sending out newsletters, your business will be at the top of mind of your customers. Emails are also a great place for you to promote new products or services, roll out promotions, and announce upcoming events or activities .

Create a content and marketing calendar that keeps you and your team on track when to send out your newsletters. Automate your emails by getting an email marketing service platform, such as Mailchimp, Constant Contact, and ConvertKit.

Keep up to date on new trends and relevant topics your clients may be interested in. Make your newsletter count, by providing value and industry insight. Make sure that your email newsletter design and layout is clean and visually-appealing. Use videos and images to make it more enticing to read. Your newsletter must contain valuable insight and information that your subscribers will be delighted to read.
4. Social Media and Google Ads
Social media ads and Google ads are one of the best tools for marketing your business, and improving online presence. These ads can help boost website traffic and product sales when done correctly. Today there are a lot of social media channels that you can choose to advertise on — Facebook, Instagram, LinkedIn, Twitter, Pinterest and Snapchat. Contrary to what others say, you don't have to place ads on all these platforms. It's best to choose the platform where you can capture a broader market, or where your target customers are online most of the time.

5. Track your Google Analytics
Having an analytics tool for your website allows you to monitor and learn from the behavior of your users.
One of the best analytics tools is Google Analytics (and good news, it's free!). Make sure that your website has Google Analytics, so you can track and measure your website performance.

Your analytics tool will give you the statistics of how your website and conversion strategies are doing. By reviewing your analytics, you can see which pages are getting more views, and whether your online efforts are converting into actual sales. Based on the cold statistics, you can have an overall picture of how your website is doing, and insight into what is working and what is not. From there, you know which parts of your website need tweaking, depending on the goal you want to achieve.

Wrapping Up

These are just some of the many ways you can market your business to get ahead in 2020. Stay tuned for more updates!
About Panalo.co
Panalo provides website design and development, digital marketing, and business process services to clients around the globe.